Guest Blog by Robert Bell
(Note from Ned – thought you might be interested in this article by Bob Bell who lives in Medford, Oregon. Worth stopping and thinking about the climate news we do get. Is it too little/too much/ how is it filtered…and who gets to see it.)
Have you heard that the planet's third largest river has turned into a trickle along some of its stretches, causing cities like Sichuan, which get 80% of their electricity from hydropower, to close factories and ration power? I learned of it last Monday, August 22nd, through the reporters and their editors from The Guardian (1). After eleven weeks of drought during the rainy season, the 400 million people who use the Yangtze for drinking water are faced with a crisis. On Thursday, August 25th, Greta Thunberg tweeted pictures from BBC's Al Jazeera showing the bare riverbed of the Yangtze River in a Chinese city (2). By Friday, as a reader of climate news, I was really curious about what was happening to the largest nation. I thought "Is there a story in the New York Times about this? I want to know more."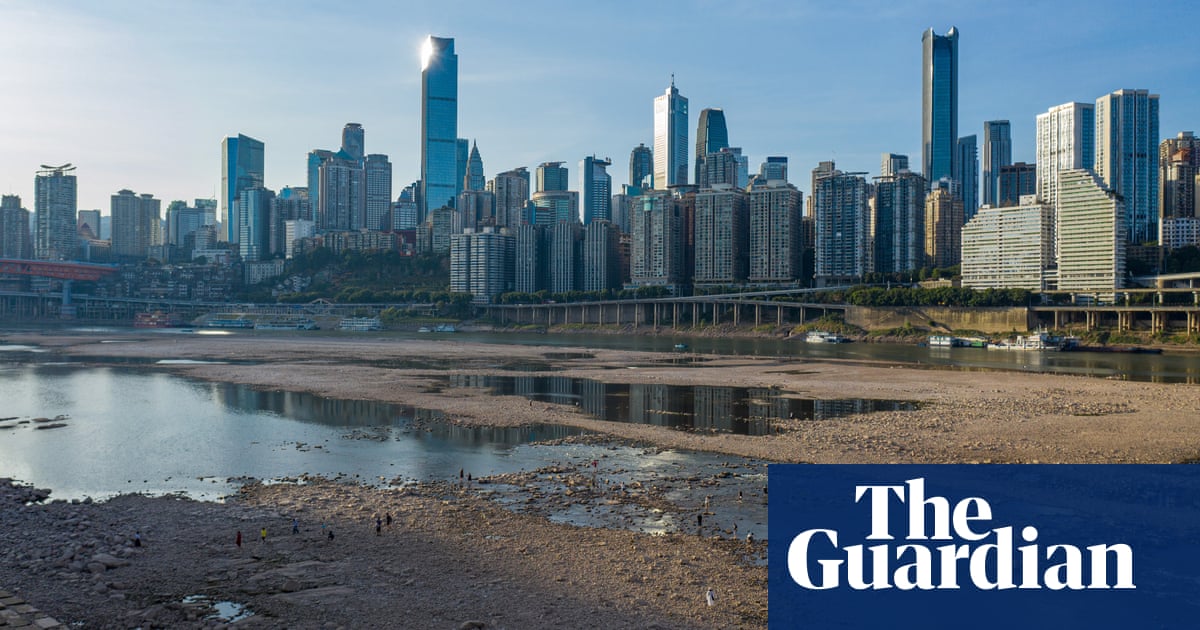 I have been hesitant about relying on the Times for climate news since 2003. Al Gore had stated then that "the only news is climate news," yet the Times only printed 11 climate articles that year. The European press seemed furious that the largest newspaper of the world's greatest emitter was not reporting to its readership critical events about climate change. European papers had dozens of articles that year. Since then, I have checked the Times last in the list of papers that I read. Two years ago, 70 members of the Extinction Rebellion were arrested for blocking the entrance to the New York Times building (620 Eighth Avenue in NY); they were protesting the Times' lack of climate coverage (3).
Since then, however, I have been heartened by seeing some climate coverage in the Times, particularly a story on the coming California megastorms (4). I decided on Friday, to check and see if the Times had decided to change policy and report climate news. So at noon, I typed "news.google.com yangtze" and, sure enough, I found comprehensive coverage of the dry Yangtze in a very well-written article. But when I looked at the digital front page: no mention, no success in searches for "yangtze", "china", or "climate". I checked again at 8pm. No mention. Large picture of a Chinese endangered sea urchin. That was it. Again Saturday morning, a fruitless search. Top headlines were about Trump's affidavit, college football, and the Ukraine. Later that morning, I went to my climate activist's meeting with eight other people. "How many of you know that the planet's third largest river is now a trickle?" Five of the nine of us had heard about it.
Later on Saturday, I found out the answer. Searching for "climate", I found the Times' Climate Forward newsletter box. It was way down the digital front page and very small. It contained a somewhat useless article about the shortage of lithium for electric cars, which I have known about for months. At the very end, "Essential News of the Times" had the vital news about the Yangtze (5).
Another business article explained that the Times has eight million digital subscribers (6). It also has 15 million people reading one of the many newsletters it publishes. Its goal is to get these non-subscribing readers to subscribe and boost its readership to 10 million by 2025. The vital news about the third largest river is for newsletter readers only. How many? Probably a tenth of a million, not eight million. Why are eight million people deprived of vital world news? Given that dark money from fossil fuels has paralyzed Congress for the last few years, isn't it likely that the same dark money is paralyzing vital media knowledge? Advertizing policy rules editorial policy. Not "fake" news, just hiding it so deeply that hardly anyone will find it. Anyone except the Extinction Rebellion and climate activist readers who subscribe to Climate Forward and become satisfied that the Times does fair coverage. Is this ecologically ethical?
(1) https://www.theguardian.com/world/2022/aug/22/china-drought-causes-yangtze-river-to-dry-up-sparking-shortage-of-hydropower?CMP=share_btn_link
(2) https://twitter.com/_dmoser/status/1561906152048410625
(3) https://www.theguardian.com/environment/2019/jun/22/new-york-times-protest-climate-crisis-coverage
(4) https://www.nytimes.com/interactive/2022/08/12/climate/california-rain-storm.html
(5) https://www.nytimes.com/2022/08/26/climate/lithium-electric-car-batteries.html
(6) https://www.nytimes.com/2021/05/05/business/media/nyt-new-york-times-earnings-q1-2021.html